Our Learning Journey
EYFS Farm Trip
The children had a wonderful day at the farm. They saw lots of animals, went on a tractor ride and even had time to explore the park.
Sports Day
What a wonderful day we had at sports day. The children took part in a running race, a sack race, an egg and spoon race and an obstacle course. They all took part and all showed amazing sportsmanship.
Daddy Day Care
It was wonderful to welcome our male role models into the school to celebrate Father's Day with the children. They took part in reading and den building activities, then had pie and peas.
Family Learning - Summer Craft
It is wonderful to have our parents in school again for our Summer Craft. The children enjoyed completing their activities with the help of their parents.
Donna Louise Sponsored Walk
Nursery and Reception took part in our 10,000 steps for £10,000 sponsored walk. We walked around our school hall and had a dance. It is a wonderful cause for the children to raise money and take part in such a special event.
EYFS Royal Wedding Celebrations
Nursery and Reception have celebrated the royal wedding in class. We were very lucky to have Mrs Mercers, Mrs Stokes' and Mrs Simpsons wedding dresses in school. We used them at carpet time to discuss and even try on!
We then dressed up, took part in our own role play and then had a tea party outside.
EYFS Eurovision 2018
Nursery and Reception have celebrated Eurovision through the theme of France.
The children explored this theme through counting french fries, packing their own suitcase and writing labels for these, learning french phrases. We used our french when talking about and tasting different french foods.
We then came together, at the end of the week, in our own 'Popstar' or 'Rockstar' costumes and preformed our choice of songs.
Below are pictures of us striking a pose, rehearsing our singing and dance moves , then preforming as an EYFS at the end of the day.
Chick us out
We were very lucky to have eggs delivered to school which we watched hatch into 6 wonderful chicks. We have learnt all about eggs and chickens. Then had our families in school to share this with them too.
Spring 2 Learning Journey and Home Learning

Easter
We have been taking part in lots of activities to celebrate Easter and New Life. We have completed circle times but also had classroom activities to access independently. Have a look at some of our creations.
Mother's Day
We invited parents into school to join us for a mother's day celebration. We shared our pictures that we painted and what makes our mum special, then had our own afternoon tea.
More Snow

Here in Early Years we use the outdoors whatever the weather. We ensure that the children and staff are all wrapped up and dressed for the weather then explore the great outdoors. We used short sessions to investigate the environment and create our own snow sculpture.
World Book Day
The children and staff all dressed up to celebrate world book day, we spend the day talking about our costumes and the stories they were from.
Year 3 also visited us for shared reading.
Spring 1 Learning Journey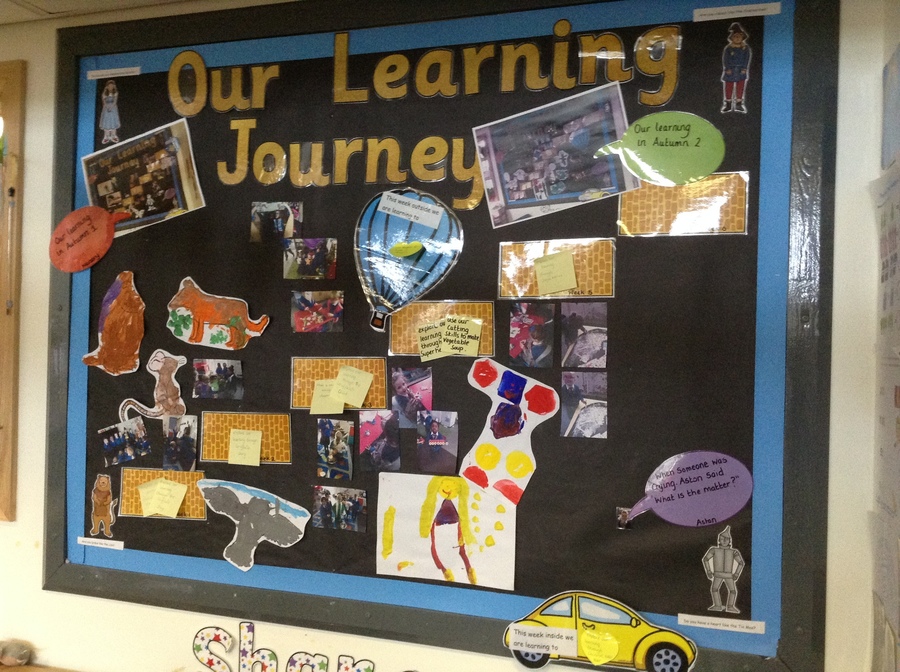 Chinese New Year Physical Education

We celebrated Chinese New Year with our PE session in the hall. We took turns completing ribbon dancing, dragon dancing and using our musical eggs.
Chinese New Year and Shrove Tuesday Celebrations.
We have enjoyed exploring these topics through our provision in class. We retold the story of the great race in the small world, changed our roleplay area to a restaurant, completed ribbon dancing and much more.
Ash Wednesday
We were able to experience Ash Wednesday through a liturgy in the hall and receiving the ashes during a prayer time in class.
National Story Telling Week
Thank you to the parents and carers that joined us in school to share a story. We also were visited by the children in Year 3 who read with us in class.
Superheros and Supertato
The children have especially enjoyed this topic. They have created their own superheros and become superheros in our role play area.
Winnie the Pooh Day - Meir Library Visit

We had a lovely visit to the library to celebrate Winnie the Pooh day. We shared stories and rhymes with the parents that joined us.
Religious Education - Baptism
We are focusing on the topic of baptism in RE this term. We have role played our own baptism in class.
It would be lovely for the children to share their own baptism keep-sakes.
We can photocopy certificates for you and show the copy in school, share photographs and more.
The Gruffalo and The Gruffalo's Child
The children have been learning all about the Gruffalo and the Gruffalo's Child. They have created their own homes using different materials and retold the story together.
Autumn 2 Learning Journey and Home Learning.
This is a display that we have in class. It shows the rest of the school what we have been learning each week for the whole half term. We add in quotes from the children, pictures and pieces of their work. We are so proud of our learning! Keep your eyes peeled for it changing ready for Spring One.

We are so proud of the home learning that has come into school this half term. Thank you to the Parents and Carers for your continued support. We look forward to seeing your home learning when you return after the Christmas Break.
Christmas Preparation at St Augustine's
Nursery have been very busy preparing for the Christmas Season.
We have written and posted our own letters to Santa.
We have experienced winter and the snow.
We have joined the school in preparation of the coming of Christ this Advent season.
We have celebrated our own Christmas in class, with our jumpers and Christmas Dinner.
We have performed our own Nativity as a Foundation Stage.
Friendship Week
We spent our week teaching Pip and Tom how to be good friends.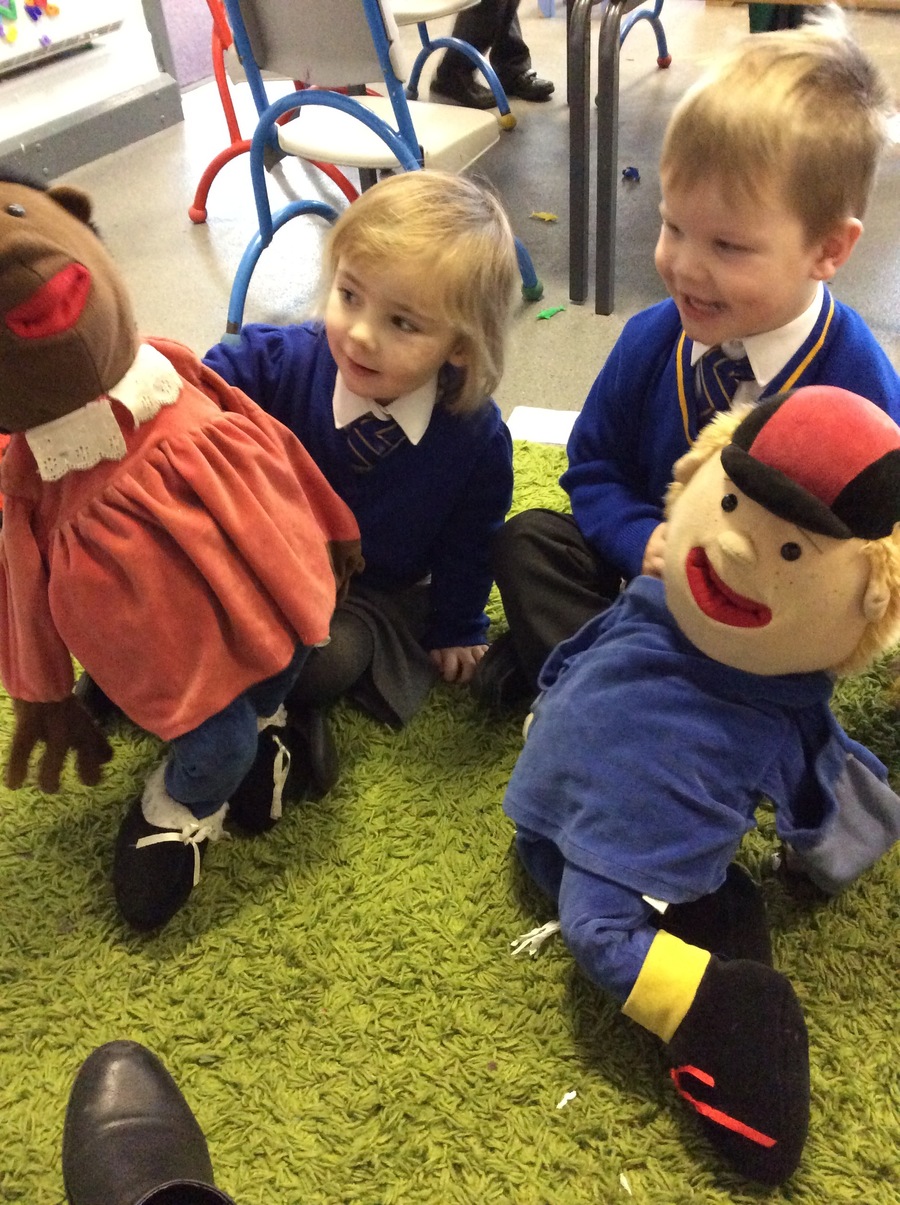 Dinosaurs
We decided that we would like to learn about all dinosaurs. As luck would have it we found our very own dinosaur egg which we got to look after and watch over until it hatched.
Watch Me Learn - Reading

We really enjoyed having some the Nursery parents in school to watch us learn. They watched us reading in phonics and then using our rainbow learning to help us read.
Our Learning Journey - Autumn One
This is a display that we have in class. It shows the rest of the school what we have been learning each week for the whole half term. We add in quotes from the children, pictures and pieces of their work. We are so proud of our learning! Keep your eyes peeled for it changing ready for Autumn Two.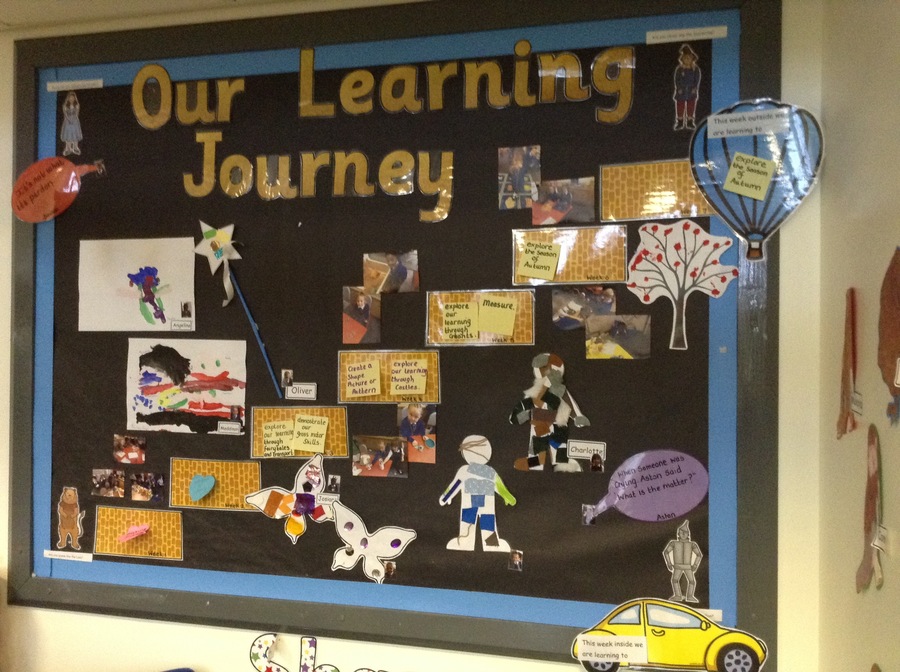 The pictures below are the images that are shown on the display above.
Some of the children were very lucky to have the Family Learning Team come into school to offer a 'Fun with the Gruffalo' workshop, Some of our family members came to join us too.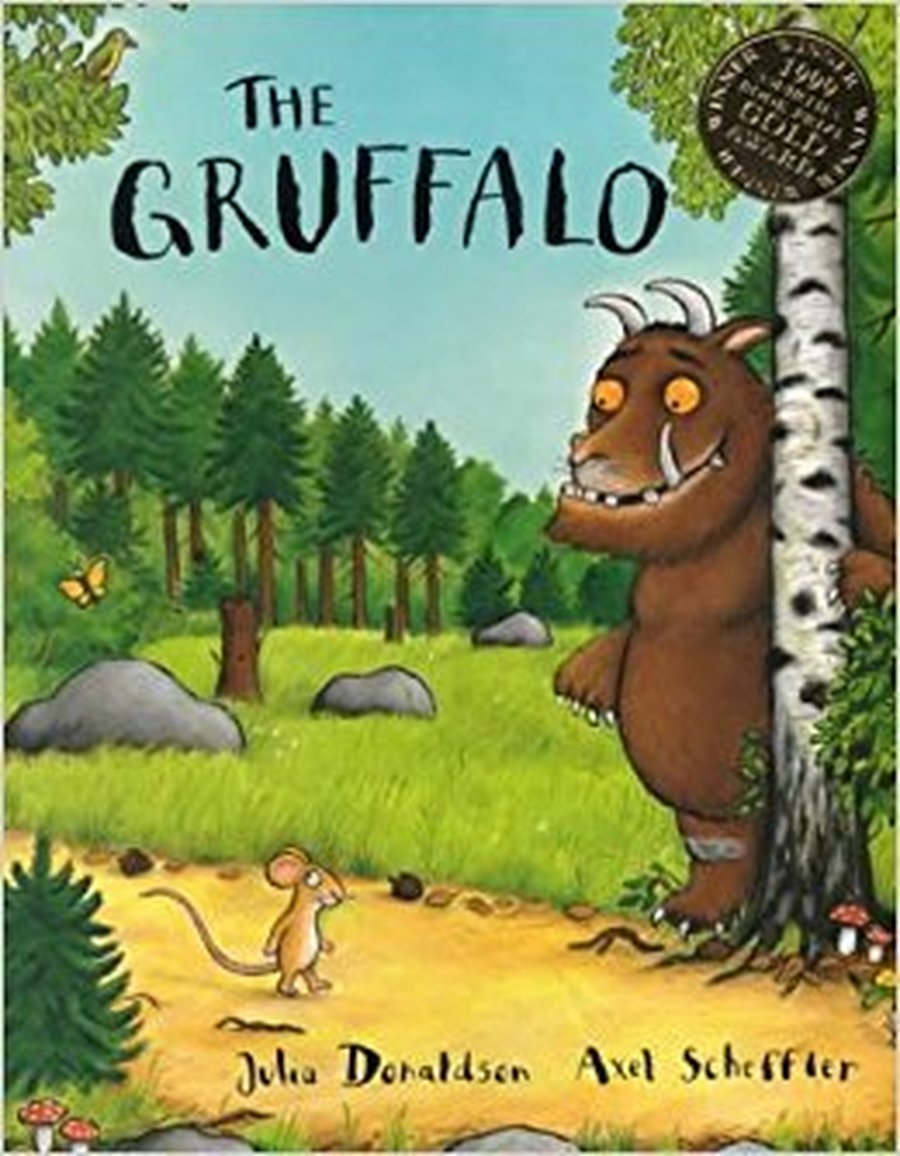 The Nursery children have been to visit Meir Library to share stories with our friends, parents and grandparents.
The children each received a free book to take home and enjoy.
We had a lovely time and cannot wait to visit again!
The Nursery children have been learning our school prayers.
Each group (Owls or Hedgehogs) have a prayer leader that leads us in prayer, this changes each week.
Below are pictures of the Owls saying the morning prayer and a copy of the prayers we share in the Foundation Stage.
The Early Years children have been looking at pictures of role play areas to decide what they would like to learn next half term. Watch this space for more.